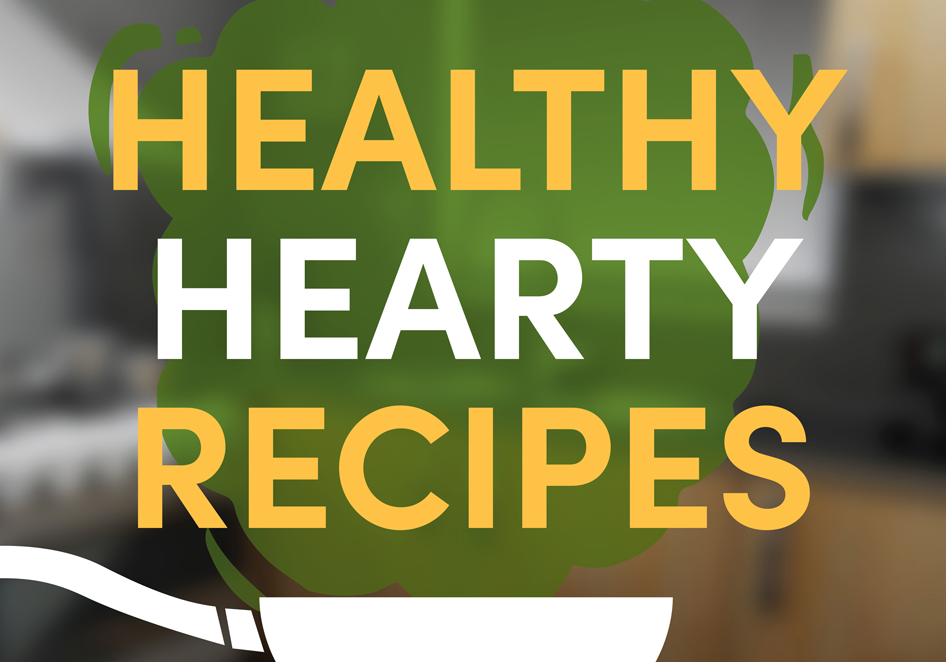 We may be nearing the end of the winter tunnel, but we're still in for some cold nights and brisk winds.
We've put together some healthy winter meal options that will hit the spot on those freezing nights but won't weigh you down or leave you feeling too full later on. That's a win-win for us.

Creamy Vegan Broccoli Cauliflower Soup 
This easy healthy soup is packed with veggies and makes the best lunch on a chilly day. 
Ingredients 
2 tbsp extra virgin olive oil 
1 medium onion, chopped 
2 cloves garlic, minced 
2 carrots, diced 
1 medium head broccoli, finely chopped (florets and stalk, about 4 cups) 
1 medium head cauliflower, finely chopped (about 4 cups) 
1 small-medium potato, diced 
1/4 cup flour 
4 cups vegetable broth 
1 cup unsweetened, unflavoured almond milk 
1/3 cup yeast flakes 
1 1/2 tsp kosher salt (to taste) 
Freshly ground black pepper 
1 tbsp lemon juice 
Method 
Heat oil in a soup pot over medium heat. Add onion, 1/2 tsp salt, and a grind of pepper and sauté for 5 minutes, or until softened. Add garlic and cook for another minute.

Add carrots, broccoli, cauliflower, and potato and sauté for another 3-5 minutes. Add flour and stir well to combine.

Add broth, milk, yeast flakes and another 1/2 tsp salt. Bring to a boil and then reduce heat to low and simmer, covered, for 15-20 minutes or until veggies are tender. Remove from heat and stir in lemon juice —season with salt/lemon juice to taste.

Use a blender to blend half the soup, leaving some chunky for texture, or roughly mash the soup. 

 
Spicy Thai Ramen 
This spicy Thai ramen is a cross between a Thai Tom Yum soup and a classic Japanese Ramen. 
Ingredients 
1 tbsp avocado oil 
1 onion, chopped 
1 stalk of lemongrass, cut in 2-inch pieces 
2cm cube ginger 
4 kafir lime leaves 
1/2 cup shitake mushrooms, cut in halves  
1–2 tbsp Thai red curry paste 
4 cups vegetable broth 
1 cup of coconut milk 
1–2 tbsp soy sauce 
1 tbsp coconut sugar 
A squeeze of lime juice  
1/2 pack of soft tofu, cut into cubes (approx. 200g)  
2 packs ramen noodles of choice 
Method 
Heat the avocado oil in a pot on medium-high heat.

 

Add the onion, lemongrass, and galangal ginger and cook on medium heat for 2-3 minutes.

 

Next add the kafir lime leaves, shitake mushrooms and Thai red curry paste and mix together, let cook for 1 minute. 

 

Add the rest of the ingredients except for the ramen noodles and let it come to a boil. 

 

Reduce heat to low, cover and let simmer for 10 minutes.

 

Add the ramen noodles and let cook for 2-3 minutes until the noodles are soft. 

 

Serve immediately

 
Optional: Garnish with some sliced green onions and sesame seeds. 

Potato Pizza with Double Cheese & Olives 
Vegetarian and delicious!  
Ingredients 
10-12 medium potatoes 
2 tbsp. oil 
1 cup Kalamata olives 
1 red onion 
1 fresh mozzarella 
100 g parmesan 
10 sprigs of thyme or rosemary 
Crust 
150 g refined flour 
200-250 g whole flour 
1 cup water (250 ml) 
25 g active yeast 
1 tbsp olive oil 
1 tsp salt 
Method 
In a bowl dissolve yeast in 1/5 of the water. Add 2

t

bsp of refined flour and mix it with the yeast. Cover the bowl with a cloth and place on the kitchen counter for approx. 30 min.

Preheat the oven to its maximum temperature with the trays in the oven. Remove the cloth from the bowl. The mixture should be bubbling, and the yeast should be active. Add the remaining water, olive oil and salt and mix it together. 

Add all of the flour and knead the dough in the bowl until it stays well together.

Divide the dough into 2 portions and place it on a clean, floured surface. Roll out each portion of dough and place on a piece of

baking paper

.

Add 1 t

bsp

of olive oil on each crust. Slice the potatoes very finely, you can use a mandolin, and divide the slices out onto the pizzas. Slice the onions and add these. Top with mozzarella, chopped herbs and olives

, and

salt and pepper. Transfer the 

baking paper

 with the flatbreads onto an oven tray and bake the flatbreads for approximately 8-10 minutes. Remove as soon as the crust is golden. Top with some fresh herbs and parmesan and eat straight away.

 

 
Coconut Noodle Soup 
This curry-inspired Coconut Noodle Soup is a flavourful lunch or dinner you can get on the table in 30 minutes or less. Top with grilled shrimp for extra protein, or enjoy without to keep it vegan. 
Ingredients 
2 tbsp coconut oil 
1 large shallot, diced (½ cup) 
4 cloves garlic, sliced (1 tablespoon) 
2 cm piece of ginger, grated (1 ½ tablespoon) 
1 red capsicum, chopped 
1 cup frozen shelled edamame 
4 cups vegetable broth 
1 can unsweetened coconut milk 
1 tbsp red curry powder  
1 tbsp ground turmeric 
½ tsp cayenne pepper, or to taste 
Salt and pepper 
16 pieces large frozen shrimp/prawns thawed, peeled and tails removed 
100g dry brown rice noodles  
2 cups baby spinach 
Optional garnish: 
Thai basil 
Cilantro 
Green onion, chopped 
Lime 
Thai chilli pepper or serrano chilli pepper, sliced 
Bring 4 litres of water to a boil. Preheat grill pan on a second burner if including shrimp

/prawns

.

On a third burner, add coconut oil to a stockpot over medium heat. Stir in shallot, garlic, and ginger, and cook, stirring for 2 minutes, or until shallot is translucent.

Stir in red

capsicum

and frozen edamame, and cook 4 minutes, or until warm.

 

Stir in vegetable broth, coconut milk, red curry powder, turmeric, cayenne pepper, and salt and pepper. Use a whisk to incorporate coconut milk into the soup if needed. Reduce heat to low and simmer 10 minutes, or until remaining

ingredients

are ready to serve.

 

In the meantime, spread shrimp

/prawns

(if including) on a preheated grill pan. Cook 4 minutes, or until

they 

easily 

come away 

from the pan. Flip and repeat on the other side until shrimp

/prawns

 turn

 

pink. Remove from heat and set aside.

 

In the final few minutes of cooking, add brown rice noodles to a pot of boiling water and cook 2 minutes, or until tender. Drain and set aside.

Stir spinach into the soup and turn off the heat. 

To serve, divide cooked noodles between bowls and ladle soup on top to cover. Divide cooked shrimp between bowls if using. Garnish with basil, cilantro, green onion, lime, and chilli pepper if desired.

 

 

Tuna Melt 
Ingredients 
1 tin of tuna 
1/4 cup mayonnaise  
A few stalks of celery, finely diced 
1/4 cup finely chopped onion 
A few sprigs of parsley, diced 
1 tbsp red wine vinegar 
Salt and pepper to taste 
A healthy knob or 2 of ghee/coconut butter 
2 slices of bread of choice  
2 slices cheese  
Method 
Drain and rinse tuna. Mix the tuna with mayonnaise, red wine vinegar, salt, pepper, celery, onion, parsley. Spend a minute or 2 mashing everything together with a fork. 

 

Lightly toast your bread in a toaster/oven until slightly browned. Don't over toast as you will be putting it under a grill.

 

Spread the ghee or coconut butter over two slices of bread.

 

Build an open-faced sandwich: top each slice with spoonful's of tuna, spreading evenly over the tops.

 

Add a slice of cheese to each slice of bread.

 

Place under a grill/toaster oven for about 1 minute, or until cheese melts.

 

Eat open-faced or smash the pieces together to create a sandwich. Enjoy!

 
Slow Cooker Chipotle Corn Chowder 
Ingredients 
3 cup corn (about 3-4 ears of corn)  
8 small red potatoes  
3 cloves garlic, minced  
2 chillies, diced  
1 tsp chipotle sauce  
2 tbsp flour 
1 tsp oregano 
1 tsp thyme 
1 tsp onion powder 
6 cups vegetable broth 
1 cup plain Greek yoghurt 
1 cup grated cheddar cheese 
Salt and pepper to taste  
Method 
Place corn, potatoes, garlic, chillies, 

chipotle

, flour, oregano, thyme, onion powder, and vegetable broth into the slow cooker.

 

Turn on the slow cooker and cook for 7-8 hours on low or for 3-4 hours on high.

 

Turn slow cooker off and fold in Greek yogurt until fully 

mixed

. Stir in cheese until melted — season with salt and pepper, to taste.

 
Tip: To prevent the yoghurt from curdling, let the yoghurt sit out to rise in temperature before adding it to the chowder. 
Back to top