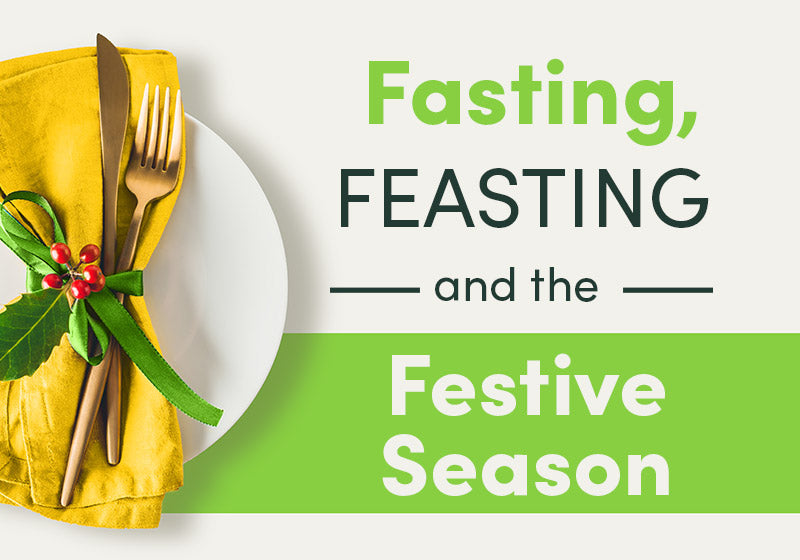 December can sometimes feel like a month-long party – with an endless parade of tempting morsels and sugar-loaded cocktails always in your line of sight. 
It makes the work you've put in for the last few months hard, very hard indeed. 
The over-indulgence doesn't have to be the end of the road for your health journey. With Intermittent Fasting, you can still keep yourself on track while making an appearance at all your Christmas parties, just like Michael Buble's Christmas album.
1. Embrace a fast 
Eating large quantities of heavy or sugary foods can be stressful for your body. Your blood sugar is spiking and crashing from the carby treats. Your body is trying to absorb all of this deliciousness, but it is hard and time-consuming work inside your gut. The best thing you can do is to enjoy the Christmas delicacies, but then give your body at least sixteen hours with no food to process and digest them.
2.
Fasting keeps you focused on what really matters
Restricting your eating window can force you to keep your attention on other things besides the bar or buffet table, such as engaging in meaningful conversations or meeting someone new. If you find yourself fasting on a night when you have an event, challenge yourself by keeping your primary focus on enjoying the company of others. 
3. Cut yourself some slack
What you eat between New Year's and Christmas is far more important than what you eat between Christmas and New Year's. January is right around the corner – and a fresh start to the year is a fantastic time to re-energize and re-focus on your health goals. 
4. Cut down where you can
If you do need a drink to get you through those summer Christmas parties – we've got you covered with an easy, healthy mocktail recipe:
🍹❤️Raspberry and lime iced tea
Serves 6 
Prep time: 5 mins + cooling + infusing 

3 raspberry and lime teabags
1tbsp runny honey
25g fresh mint leaves
Juice 2 limes
500ml crushed ice
150g strawberries & raspberries, plus extra whole raspberries and lemon wedges to decorate (optional)
Put the teabags in a jug. Pour over 1 litre boiling water, then stir in the honey and half the mint. Leave to infuse for 15 min. Strain, discarding the mint, then allow cooling.
Mix the cooled tea with the lime juice and 100ml cold water. Divide ice among 6 glasses, then add strawberries and remaining mint. Pour over the tea, decorate with extra fruit, if using, then serve.
Need it a bit stronger for the extended family get-together? You didn't hear it from us – but to turn it into a tipple… add a single measure (25ml) of gin or vodka per serving.
Back to top