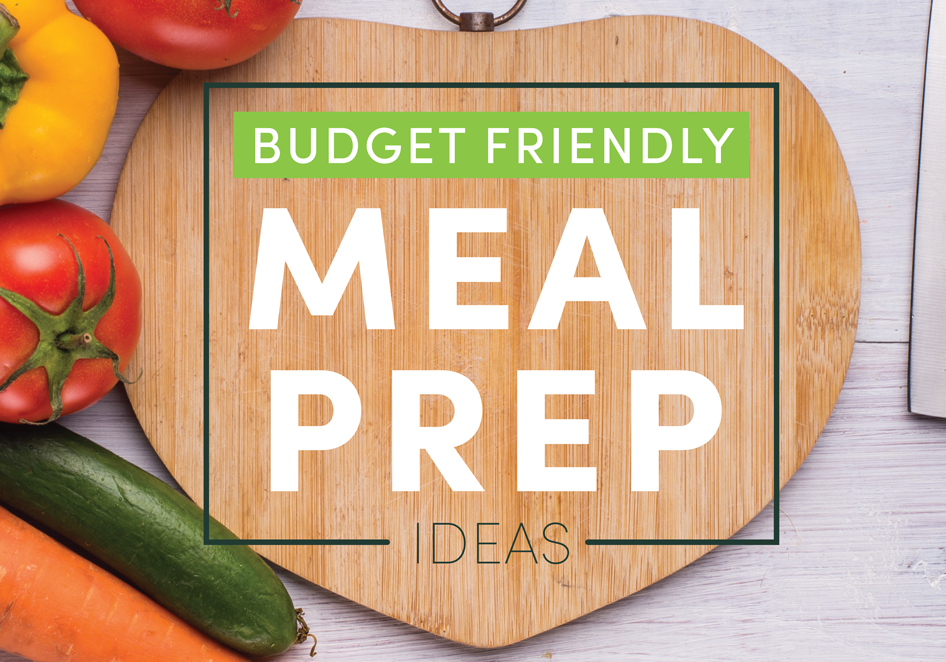 Meal prep is a great way to simplify your eating and ease the strain on your wallet. With a dash of organising and some cunning swaps, you can avoid help to avoid takeaways and reduce mealtime angst.
USE WHAT YOU'VE GOT
Do a stock take of your pantry, fridge and freezer. Likely there will be stashes of leftovers, half-used packets of dried foods and tins languishing in the dark recesses there.
Try building your meals around these things for a week or two, buying only what you need to complete the dish. You can cut down your stockpile and you spend a bit less on groceries, too.

MAKE A SHOPPING LIST
Plan ahead and choose a meals for the week that are different, but share similar ingredients. You should be able to spend less on a range of different things in your grocery shop, while still being able to mix and match meals, keeping a bit of variety in your eating.
FROZEN FRUIT IS THE FREEZERS FRIEND
A lot of berries and tropical fruits keep really well in the freezer. They are cheaper when bought frozen and can be utilised in a bunch of different ways – topping for desserts; added to smoothies; on top of a healthy breakfast.
BUY IN BULK
You can save money at 'bulk-buy' and 'pick-and-mix' bins. The advantage of buying in this way is that it allows you to only buy as much as you need. Don't want to buy a whole pack of desiccated coconut? Just buy the half cup you need!

WE'RE GOING ON A BARGAIN HUNT!
Big sale on cabbage at the supermarket? Great! Be flexible enough to plan meals around grocery items that are on sale – little savings here and there add up quickly.
FROZEN VEGES
Most frozen vegetables will be packed when they're at their best, and many come pre-chopped – saving you time in the kitchen. There are perfect for soups, omelettes, adding to slow-cooker meals and fried rice dishes. There is an ever increasing range in supermarket freezers, too.

BULK MEAT CAN BULK OUT YOUR MENU
Try buying bulk cuts and portioning it out yourself, freezing what you won't used straight away. You can also save money buying cheaper cuts of meat and using a slow cooker to cook them until they are juicy and tender.
LEFTOVERS SAVE YOU TIME AND MONEY
Make you leftovers work for you! Freeze or chill leftovers to use, especially if you have made something like a big stew - portion the leftovers out and stretch you meal over a few nights. This can help cut down on your meal prep time and save you time at the end of a busy day.
BECOME A MIX-MASTER
You might have a collection of spice packets that have been sitting on your shelf, unused for quite some time. Why not use them to experiment with spice-blends for your cooking?  
MAKE YOUR OWN CONDIMENTS
Things like salad dressing and guacamole can be made for a lot less than their prep-packaged, ready made cousins. Often they will be healthier, too, with less additives and preservatives included if you make it yourself. You can mash an avocado in with some lime juice, a little red onion and some salt – boom! You save yourself some money.

PLANT BASED MEALS CAN SAVE YOU MONEY
Going meatless for one or two meals a week can definitely help your food spend. There are plenty of creative and satisfying meal ideas out there that don't involve meat.
BULK OUT YOUR MEATY MEALS
You can make your meat-based meals go a bit further by simply adding thinks like mushrooms, pumpkin or beans. Pumpkin can easily flesh out a stew and added extra layers of flavour.
STOCK UP
Meat bones and vegetable stalks can be easily frozen and stored up until you have enough to make a hearty stock to add to your meals. Once you have enough scraps, slow cook them for about 10 hours, and you'll have a delicious stock to add to stew and soups, among other things!
Back to top