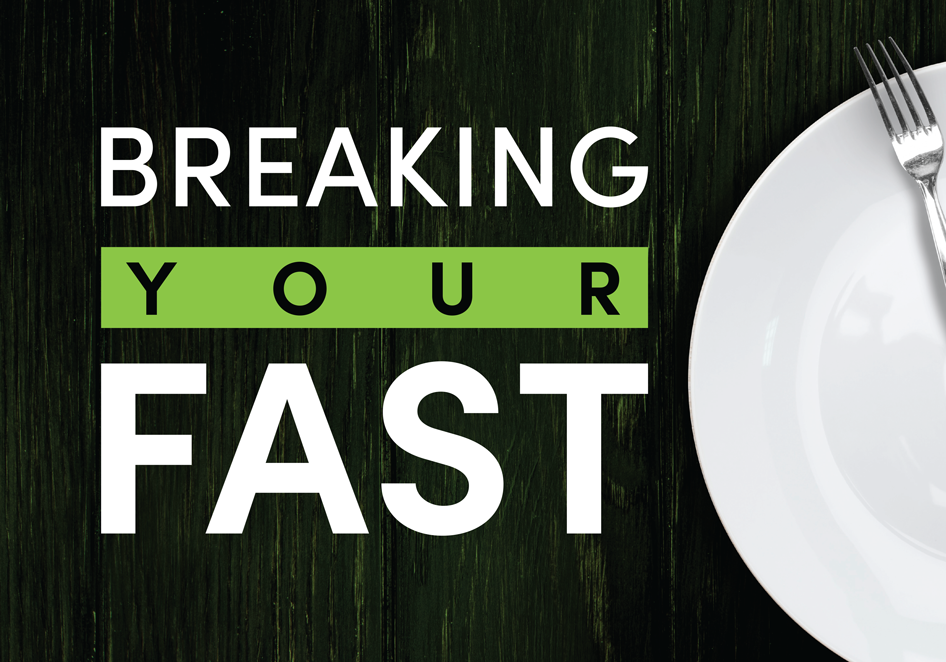 Recipes to set you up for success
If you're fasting, it doesn't mean that your meals have to be boring. Starting your eating window off right, with delicious, healthy recipes can ensure you kick off with a bang and keep a well-balanced meal plan throughout the day. 
Here are a few of our favourite recipes to help ease you into your eating window. 
Easy Omelette
Serves 4

Ingredients
8 eggs 
Olive oil, to sauté filling 
1/3 cup filling per person (brie & ham, cheddar & sautéed shallots or onions, mozzarella & rocket) 
8 tsp butter
Salt and pepper  
Beat eggs with ¼ cup water and salt and pepper. Sauté ingredients for omelette filling, if necessary
Melt 2 tsp butter in a small non-stick pan over medium-high heat. Slowly pour in a quarter of the beaten eggs and tilt pan until it completely covers the surface. Use a wooden spoon to move any uncooked egg from the edges to the centre, and cook until omelette has set around the edges, but the middle is still runny
Sprinkle filling down the centre of the omelette. Use a spatula to fold one-third of the omelette towards the centre. Hold the pan over a plate and gently roll the omelette out of the pan, folding the other edge into the centre as you do so.
Repeat to make three more filled omelettes. Serve immediately
Coconut Pancakes
Serves 4
Ingredients
2 tbsp coconut oil (plus more for cooking)
6 eggs
1 cup coconut milk 
1 tsp pure vanilla extract
½ cup coconut flour 
1 tsp baking soda 
Salt 
Melt coconut oil and cool to room temperature. Whisk eggs vigorously until thoroughly combined 
In a mixing bowl, stir melted coconut oil, milk and vanilla into beaten eggs. Sift in the flour and baking soda. Add a pinch of salt. If batter seems too thick, add some more milk, about 1 tbsp at a time
Heat a pan over medium-high heat. Heat about 1tsp coconut oil in the pan. Ladle in three small pancakes, so that they won't break when you flip them 
Watch them closely. They will brown and start to get fragrant after 2-3 minutes. Flip them carefully and cook for another 2 minutes 
Serve immediately, berries and cream make a lovely addition to this recipe
Burrata, Asparagus and Radish Salad with Lime Vinaigrette
Serves 4 
Salad
1 bunch asparagus 
8 radishes 
1 cucumber
225g burrata 
Lime vinaigrette 
1 lime 
6 tbsp olive oil 
1 tbsp white wine vinegar 
Salt and pepper
Using a vegetable peeler or mandolin, shave asparagus spears into long, thin slices. Slice radishes and cucumber (lengthways) as thinly as possible. Tear the burrata into rough chunks. Zest and juice the lime and save for the vinaigrette
For the salad, divide asparagus, radishes and cucumber among four plates. Nestle burrata pieces among the vegetables 
For the vinaigrette, in a small bowl whisk 1 tbsp of lime zest with 1 tbsp of lime juice, olive oil and vinegar. Season with salt and pepper, drizzle over salad and serve 
Poached Salmon with Lime-Dill Mayonnaise
Serves 4
Ingredients
1 lime, zest and juiced
1 bunch of chives, minced 
2 sprigs fresh dill, minced
1 shallot, minced
½ cup white wine
1 bay leaf
4 salmon fillets 
½ cup mayonnaise
1 tbsp Dijon mustard 
Salt and pepper 
In a wide, high-sided pan, combine 3 cups water and white wine, add shallots, bay leaf and 1 tsp salt and bring to a boil over high heat. Let the liquid reduce slightly for 5 minutes and remove from heat
Carefully lower salmon fillets into poaching liquid, cover pan with lid, and allow salmon to poach as it cools. Check salmon after 15 minutes. It should be deep pink in the centre. If it is not quite cooked, leave it to poach for 5 more minutes
Transfer cooked salmon to a platter to rest for 5 minutes. Pat dry with paper towels (if not serving right away, cover the dish and refrigerate for up to 3 days).
While salmon is resting, in a small bowl, combine mayonnaise with 1 tsp of lime zest, 1 tbsp of lime juice, chives, dill, and mustard. Season with salt and pepper. 
Serve salmon at room temperature. Place fillet on each of four plates and top of a generous dollop of lime-dill mayonnaise
Back to top